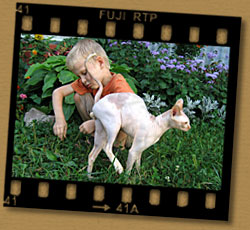 That what detaching Sphynx from other cats breeds it is unique nature, as if Sphynx already not cat. Sphynx lose the part of cat's independence together with wool. Such cat not "walks it self", but devoted to human as dog and constantly needs for his society. They love to sleep in your lap or your bed cuddled under the blanket. Sphynx are very attentive and curious creatures react quickly to the environment and constantly purring to express their reaction to it. Sphynx not have whim and aggressions. Sphynx is strangely communicative, very curious, extraordinary clever and absolutely not touchy. Sphynx are gentle and sweet, very social.
These qualities do Sphynx not replaced for family with children.
For small child Sphynx is present "nurse". Communicate they as equal. Tirelessly chase with each other, hang around, fight, are kissed, deprive the toys from each other, and fall asleep together when tired.
Herewith you can not afraid for health and welfare your child. Sphynx is very tender and gentile and they are completely deprived to aggressions. With sinking heart see that does child with him: raise for ears, for tail, lead on front paw, draw on side, and a great deal another, on what capable child's fantasy. But Sphynx herewith only aloud purr.
The Sphynxes capable to training and they can execute the simple commands: bring the subjects, perform the uncomplicated stunts, "talk", open the door, be friends with any other animal, even with potential "mining" (the mouse, rats, hamsters).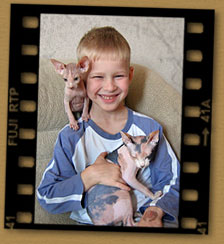 The Sphynx absolutely does not remember the ills, does not hide the insult and does not avenge. If you accidentally or purposely cause pain to him(veterinary's manipulates), be certain that in five minutes after that Sphynx will search contact with you, and once again will molest to you with their own eternal weasel, kiss, purr.
Our cats and kittens are very well socialized and truly are members of our family. Our sphynxes grow together with my son. They are best friends for my son in all his plays and amusements.
About such friends possible only to dream. They will not defraud, will not betray and always will sincerely love you.