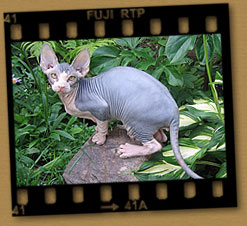 Merloni Sphynx Cattery located at RUSSIA in Voronezh city - beautiful city isn't far from Moscow. We are breeding sphynx since 2001 year and registered in WCA "NIKA CENTER" (Russian friendly CFA system).
Our cattery breeding SPHYNX only. We haven't in our cattery any new experimental bald races. When we choose new breeding cats, we check blood lines for existence any new mutations much carefully. So if you buy kitten in our cattery you can be sure that you buy lines free from any new mutations - short legs, ears bent and other.

All our Sphynx live with us as our family members. Our cats and kittens are not isolated never, they always freely walk on the house and surrounded by great attention and care. We have big house so our cats and kittens have a lot of place for racing and games. The kittens keep in touch with people from the day of birth, it's good for their social adaptation. So our kittens have wonderful temperament: very sociable, playful and tender; they love people and prefer to be on hands.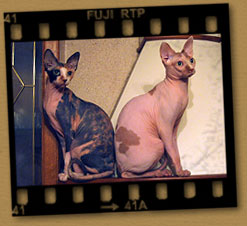 Merloni Cattery is a closed type cattery; it's means that we don't breed our cats with cats other breeders. It's helps to keep strong health our cats. We are fans of this wonderful breed and we happy take care of such lovely creatures. Our task is breeding of healthy and strong kittens perfectly close to the standard. We hope that our sphynx babies will make their owners happier.

Our kittens live in different countries. We offer the worldwide shipping to any point of the world with personal courier or by aircargo.

My acquaintance with Sphynx Breed began many years ago at one of the Cats Show in Moscow. Namely there for the first time I saw amazing cats that can't leave indifferent anybody. It was the wonderful SPHYNX!



I was standing near the cages and couldn't leave such miracle. And when I took a little sphynx baby in my hands I suddenly understood that I can not part with him. Its hot velvet body and paws looking like baby's hands with long fingers and clever "human" eyes penetrating into the very soul did sphynx babies similar to human baby. After that Show was bought my first Sphynx. At first this sphynx kitten shocked my relatives but then everybody loves this wonderful small bald creature.

Later in famous cattery we found bridegroom for our bald girl. It was a splendid sphynx male Enneking Zherar, representative of French and Belgian lines (Magie D'Orient/Goriakis), son a famous Rayan De La Magie D'Orient color natural mink with blue eyed exported from French Sphynx Cattery. Zherar became our main sire of our cattery and common favorite of our family.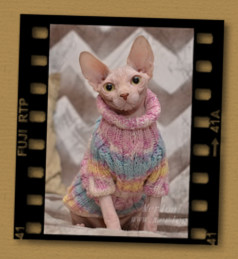 In 2007 year in our cattery arrived new sphynx male from famous Canadian cattery OPUSONE. Opusone Mr. Sunshine is a carrier American blood lines and have wonderful type which I searched so long! I am very grateful to Eric and Martine Lavoie, breeders Opusone Cattery in Canada for such exciting boy!!!

In 2008 year we have got new sphynx queen from Pinupcats Sphynx Cattery (USA). She is absolutely exciting girl! I am lucky that can enjoy this splendid creation each day and want to say many thanks to Cyndee L.Gause for such beautiful, charming and tender girl!!!

So now in our cattery we have different lines of famous sphynx cattery Europe, USA and Canada and different type of sphynx for our breeding work and composition competent breeding programs without inbreeding.

The breeding of these wonderful cats is the important part of our life which gives to us much pleasure. We enjoy the communication and the process of the kittens' upbringing. Also we are satisfied with the results of such activity. We always maintain close contact with our buyers and glad give them advice. We will please if you want to become good owner and friend one of our kittens. In any case we are happy that you visited site of Merloni Sphynx Cattery and hope that you had several pleasing minutes and enjoy our loved cats.

If you have any questions or you need any additional information, please do not hesitate to contact us. We will glad to answer at all your questions about Sphynx breed and my cats. Please write me: merloni-sph@comch.ru



Best regards, Irina Uryvskaya.


Coming soon!